This easy 9 patch block uses 2 colours and a combination of whole squares and half-square triangles. The same squares can be rearranged to make an alternative block pattern called Ribbon.
MAKING THE BLOCK

1. Cut the fabric you'll need.

Cut six 4.5" squares from colour 1 and three 4.5" squares from colour 2. Use a strong contrast for best results.

---
2. Create your half-square triangles.
Use one square of each colour, and place right sides together.

Mark a diagonal line across the middle.

Stitch either side of this line, using the presser foot on your machine as a guide.

Cut along your original drawn line between the stitching. This creates 2 squares made up of triangles.

Open the squares up, and press the seams to the dark side

Repeat to create another 2 squares (4 in total).

---
3. Arrange your pattern.
Arrange the Spinning Star block as shown, with a whole square in the centre and at the corners. Create the star effect using half-square triangles all "spinning" in the same direction.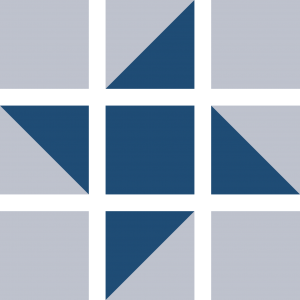 ---
4. Sew your block together.
Sew the squares together row by row, pressing the seams as you go, and making sure the design is in the correct order.
Repeat the process, sewing your rows together.
Voilà!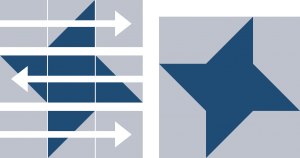 ---
5. Why not try an alternative design?
Repeat steps 1 and 2, but arrange your squares in different positions as shown to form the Ribbon block.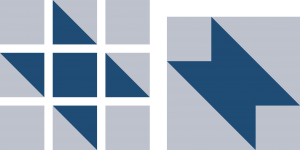 ---
---
Thanks for reading along, and don't forget to check back next month for a new block pattern and instructions!