Recent work from Rejig Sessions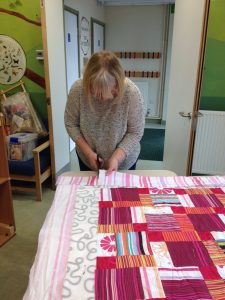 Its been a busy few months here at Rejig with lots of new starters and many different sewing and recycling projects underway. There are some great quilts made from recycled fabrics already in progress, and the weekly and monthly sessions include sewers making Roman Blinds, appliqued cushions, trying some fabric dyeing, sewing new summer clothes and producing some very fine rag dolls.
Everyone is looking forward to the summer holidays and then once the school term starts again, we will be getting ready to run our annual drop-in sewing workshop at the Festival of Thrift, which this year will be at Kirkleatham Hall in Redcar on 17th & 18th September – it's already exciting, so remember to book the date in your diary and come and join in the fun!
http://www.festivalofthrift.co.uk/